Fans of #Eduprotocols will be familiar with the Emoji Power Paragraph, a writing prompt that uses Ian Byrd's Random Emoji Generator to encourage students to build fluidity in students ability to think and respond, and then use that to practice and develop their writing skills.
If you want to see Jon Corippo's full breakdown, check out his post on Socrative.
ELLs can benefit from the Emoji Power Paragraph for the same reasons as any other students can – they're offered the opportunity to build their creativity and autonomy through structured learning through a familiar lens. Emoji are also language independent, giving students at different levels the opportunity to build on what they know.
If you want to know more about Eduprotocols in ESL, listen to our episode with Jon Corippo here or better yet, subscribe and download it to your podcatcher!
I was pondering the power paragraph, and on a lark I decided to see if I could make my own Emoji Generator using Flippity. I threw it up on twitter and it seemed to strike a chord:
If you like the Emoji Power Paragraph #EduProtocol, I built this in @flippitynet, replacing words with Emojis in the Random Name Picker.https://t.co/ir5WZ7u9Cc pic.twitter.com/XDyWp2XC4w

— Brent Warner ☕️ (@BrentGWarner) October 16, 2020
If you haven't used it, Flippity.net allows you to use google spreadsheets for all kinds of activities, including a Random Name Picker. Because Google allows you to put emoji into individual cells, I wondered if I could use Flippity to create an emoji spin wheel. Spoiler alert – I could.
Spinning the wheel might bring a little more visual fun, but by itself, it doesn't serve much different purpose than using Byrd's original generator above. However, the additional functions in Flippity allow me to turn the Emoji Power Paragraph into what I've dubbed:
The Power Emoji Power Paragraph!! 😂
The PEPP allows for not better, but a different set of tools for you to use to work with your students.
Take a look at the tabs on the top of Flippity and you'll quickly see where the potential lies:
Small Groups
Along the tabs you can see that Flippity will automatically break down your Emoji into Groups of 2, Groups of 3, etc. If you start with a group of 30 emoji, and choose "Groups of 3", it will automatically parse your emoji into 10 groups of 3 randomly chosen emoji from your list:
With an organization like this, you can have students break out into small groups, and each group can take an assigned number. Using the image above, group 2 would have to make a story out of a 3.5″ floppy disk (they'd probably think of it as SAVE, a mushroom, and a battery. Meanwhile, Group 7 would make a story out of an umbrella, a sunrise, and bowling.
Each group could have its own prompt, they could race each other to finish first, and there's no fear students spying on other groups for ideas.
Choice Board
Under the "Seating Chart" category, you can have Flippity create a 3×3 tic-tac-toe board. Turn this into a choice board, allowing students to choose any 3 that they like, horizontally, vertically, or diagonally: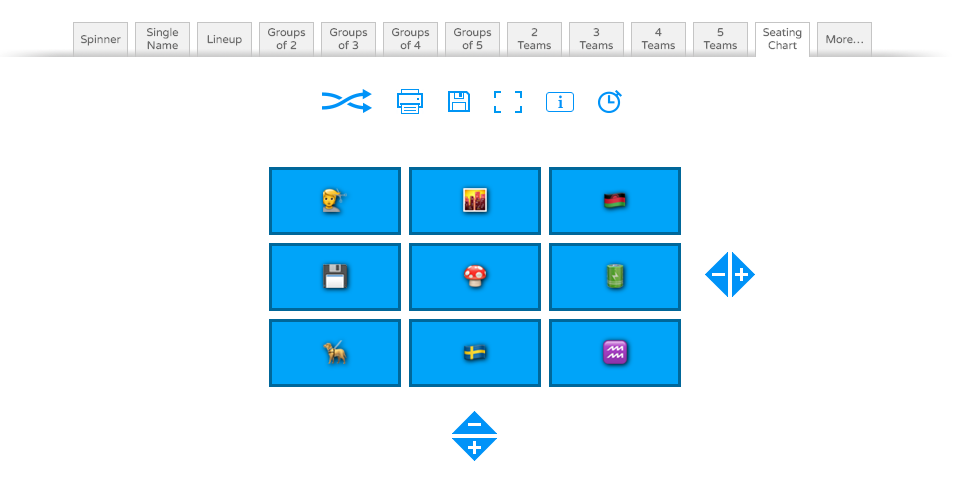 This setup gives students more autonomy in choice, while keeping it limited. Here, students can create their stories, then go find someone with the same 3 choices as them to compare and contrast.
Speed Dating
Hidden under the "More" tab, there's an option for "Speed Networking". This puts pairs of emoji together in a box. A quick resizing of your browser can get the boxes to align with each other in two rows:
In this challenge, each student would write a single sentence using the emoji in their respective box. Let's use the first column as an example:
Student 1: My barber paged me yesterday.

Student 2: I'm all charged up and feeling saucy!
Now the students have to work together to make a coherent paragraph that uses each of their sentences.
Combined: My barber just paged me. I haven't had my hair cut in 8 months! But I didn't know if I was feeling up to getting a trim, as I never leave my house anymore. Still, my mom encouraged me to go, and she gave me the money to get my haircut. I went over and it was great to see my barber and just get out of the house! Now I'm all charged up and feeling saucy! I wonder if I should get out more often…
The options for how you want to mix and match emoji are limited only by your own emojination 😏
UPDATE – Joe Marquez +1'd me!
Almost immediately after posting, Joe Marquez +1'd the PEPP by dropping the emoji into the Randomizer:
Because I loved @BrentGWarner's @flippitynet emoji wheel, I wondered if I could create a five column emoji randomizer for emoji stories. Luckily #flippity had just the right template! Take a look https://t.co/yOhWSB07Kj

P.S. Could also be used to create an #appsmash device 😉

— Joe Marquez, The EdTech MacGyver 📎💻💥 (@JoeMarquez70) November 9, 2020
This lets you spin 5 wheels at once, putting the emoji together in yet another way:
One bonus to this is that you can respin individual wheels, so if you just feel like there's one element that's off, you don't have to throw out the whole thing.
BUT WE'RE NOT DONE!
Until now, we've been talking about some ideas for using the PEPP, but I'm not going to leave you hanging. I need to make sure you're fully covered to build your own PEPP for your students.
Use my spreadsheet to get started:
On the bottom tabs, you'll see that this is a variation of the Flippity generated sheet.
YOU WILL STILL ULTIMATELY NEED TO CREATE YOUR OWN SHEET (see bottom of post)
Flippity generates a custom URL, so if you use my sheet and my URL, you won't be able to customize it as you like. But for now, let's use mine as an example.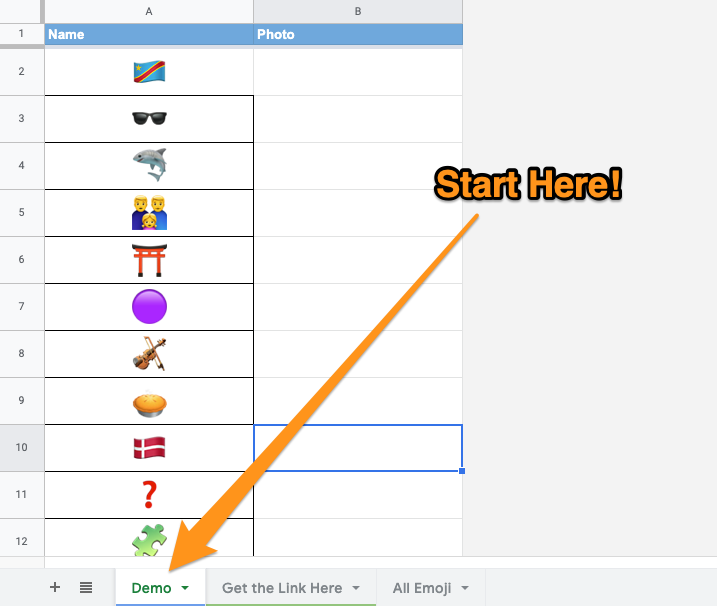 In the demo tab, I've posted 30 random Emoji. These are the emoji that Flippity will access when creating the selections for the Random Name Picker activities. You can add as many or as few as you like. You might choose to have exactly 1 for each student in your class, or you might choose a balanced number to create equal group sizes.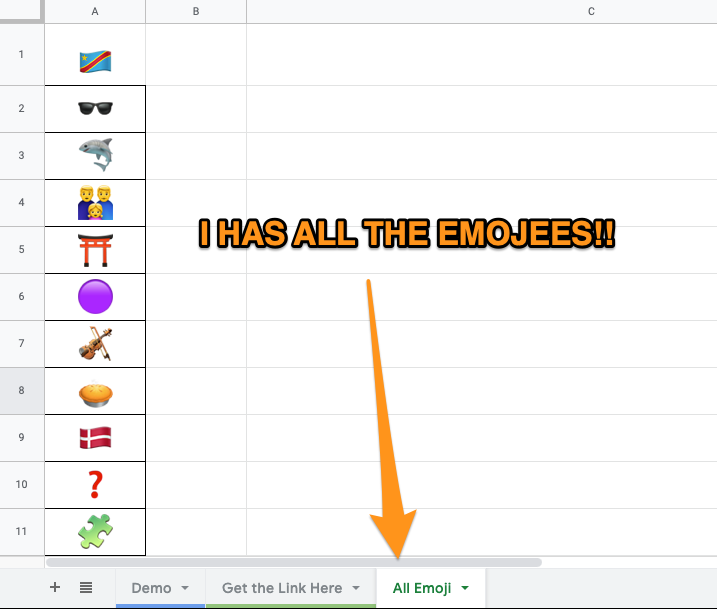 Don't like your choices? Click on "All Emoji" where I've put all currently available emoji into one (very long) column. You can individually pick the emoji that you want to put into the DEMO tab, or…
This will mix up the order of all the emoji in column A. You can then choose the top 30 (or, again, whatever number you choose) and paste them into the Demo tab, giving you a fresh batch of random choices every time.
Customize your Emoji
Depending on the age of your students, you may have some customization to do.
Worried about that 🍆 emoji? You're the boss! Delete it from your "All Emoji" list and it won't be a problem.
Master of Your Domain
Let's imagine your a science teacher – how useful would it be to customize your emoji to fit in the realm of your classes? Spend a little time editing the sheet to science-specific emoji, and you're on your way!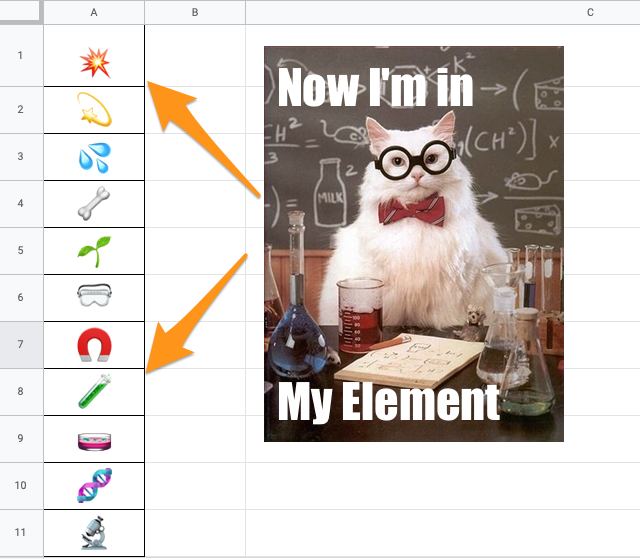 Social Studies? How about creating a Model UN activity with flags and emotions?
The possibilities are endless, but in order to make sure that this post is not, it's time to wrap things up.
But before we do, a word of warning:
In order for your customization to work, you will have to GENERATE YOUR OWN SHEET
Even though you are copying my sheet above, any customization you make will not reflect through my link. Make sure you follow the directions, then copy and paste the "Demo" sheet and the "All Emoji" sheet into your new sheet, generated through Flippity.
I hope you have tons of fun with this. There are so many ways to go with the Power Emoji Power Paragraph. Let me know what YOU end up doing!